In light of the escalating global temperatures and the pressing need to address climate change, Met Éireann is proud to announce the launch of our new Summer Centre. As record-breaking heatwaves and extreme weather events become more frequent globally, this dedicated webpage aims to provide the public and the media with valuable insights into the history and future of summer weather in Ireland.
While warm summer weather is enjoyable for the most part, extreme heat, including both minimum and maximum temperatures, poses significant risks to human and animal health. As we brace for the impacts of hot weather, particularly with the added challenge of climate change, it becomes crucial for individuals to be prepared during the meteorological summer months (June, July and August).
| | | |
| --- | --- | --- |
| The hottest summer on record (length 123 years) was 28 years ago in 1995. | The coolest summer occurred over a 110 years ago, in 1912. The coolest summers recently were 2011 and 2015 (13th and 30th coolest). | The hottest summers recently were in 2022, 2018 and 2013 (8th, 4th and 6th warmest respectively). |
| The driest summer on record (length 82 years), was 47 years ago in 1976. | The wettest summer was in 2012, eleven years ago. | Summer 2022 was much drier than usual, at three quarters of its long-term average (1981-2010). |
What is a heatwave in Ireland?
There is no universally accepted definition of a heatwave, they are generally understood to be periods of extreme temperatures that last a few days. The definition of a heatwave in Ireland is:
A heatwave occurs at a Met Éireann station when the daily maximum shaded air temperature is greater than twenty-five degrees Celsius (> 25.0°C) for five or more consecutive days.
| | | |
| --- | --- | --- |
| While air temperatures > 25.0 °C occur most years in Ireland (between 26th April and 30th September), heatwaves have occurred between 24th May and 13th September (inclusive). | The longest heatwave on record for Ireland was 14 days from Saturday 14 August 1976 to Friday 27 August 1976 (inclusive) at Birr Castle, Co Offaly and Ballybrittas, Co Laois. | The last time heatwaves were observed in Ireland, was in August 2022. The longest heatwave of 2022 was observed at Ballincurrig, Co Cork with 7 consecutive Summer Days from Monday 8 to Sunday 14 August 2022 (inclusive). |
| In Ireland, Hot Days do not occur every year, since 1975 they have occurred on average every 5-6 years. | The longest number of consecutive Hot Days is 5 days at Boora, Offaly from Tuesday 29 June to Saturday 3 July 1976 inclusive (during a 8 day heatwave) and also at Derrygreeagh, Co Offaly from Sunday 18 to Thursday 22 July 2021 inclusive (during a 9 day heatwave). | The last time a Hot Day was observed was on Sunday 14 August 2022 at Cloyne, Co Cork. If a meteorological station observes a Hot Day in 2023, this will be the first time, Ireland has observed three consecutive years with Hot Days. |
| Tropical Nights are a rare occurrence in Ireland. | The longest number of consecutive days with Tropical Nights is two days at Valentia Observatory, ending on Friday 23 July 2021. | The last Tropical Night was observed at Valentia Observatory, Co Kerry on Friday 23 July 2021. |
Why do heatwaves happen?
Heatwaves are most common in summer when high pressure develops over the country. High pressure systems, also known as anticyclones, are slow moving and can persist for a prolonged period of time, resulting in dry and settled weather. In anticyclones, cool air descends from aloft and diverges outwards at lower levels. As the air descends it is warmed by compression.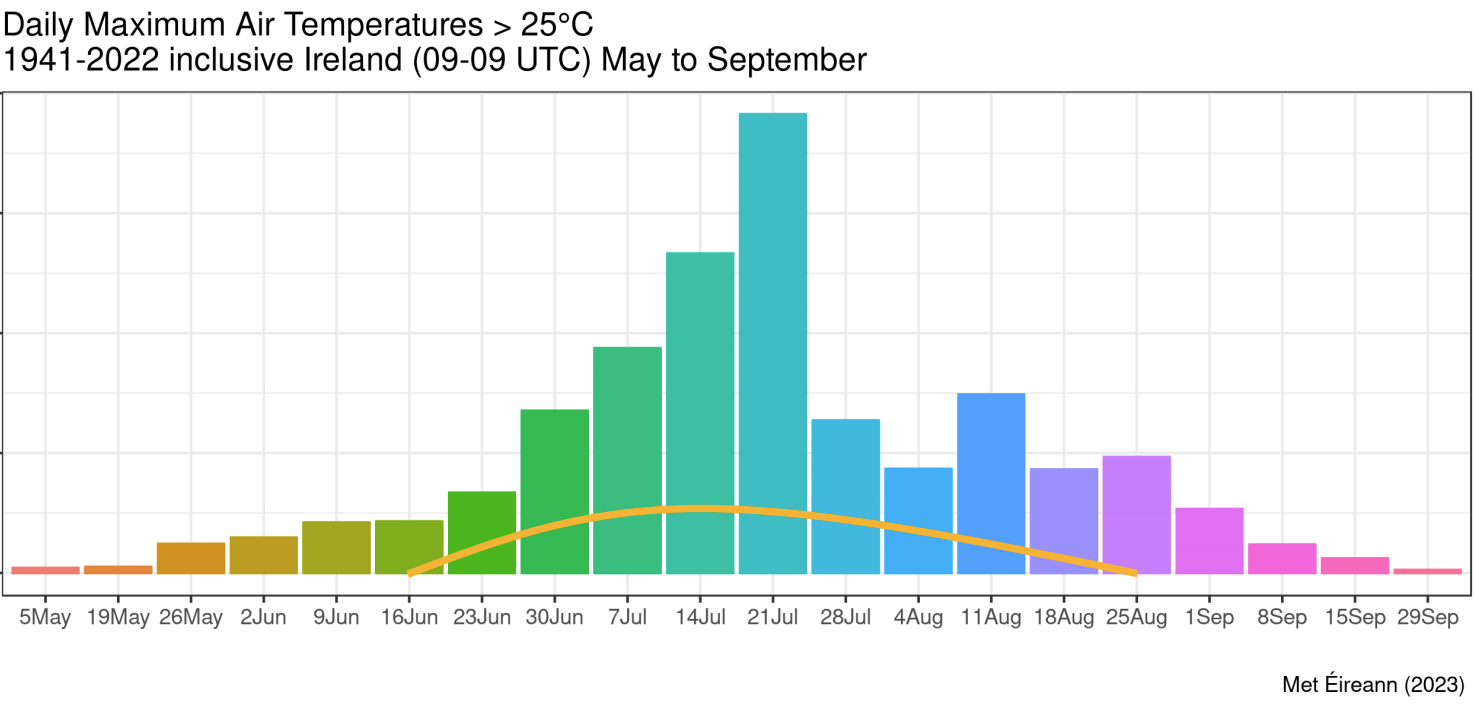 When do heatwaves occur?
In Ireland, temperatures greater than 25.0°C are observed between May and September, see figure above which counts the number of occurrences (on y-axis) for each week (date is week commencing). The curved yellow line is an illustrative line to show when Irish heatwaves in Ireland have generally been observed in the past. As you can see, the peak time for heatwaves starting is in the middle of meteorological summer.
Climate change
Heatwaves have become more frequent and more intense globally since the 1950s. Human-caused climate change is the main driver of this increase in extreme heat. Some recent heatwaves would have been extremely unlikely to occur without human influence on the climate system. According to climate projections, it is virtually certain that the duration, frequency and intensity of heatwaves will increase over most land areas. Because of global warming, the frequency, duration, and severity of heat waves are predicted to increase in most parts of the world including Ireland. The IPCC Special Report on Extremes shows that heatwaves will be more frequent, longer and more intense in the 21st century.
Further reading
Contacts
Media queries: media@met.ie
Climate queries: enquiries@met.ie

Last updated Friday, 2 June 2023